Wonderland, 1997
Linocut, 40 x 60 cm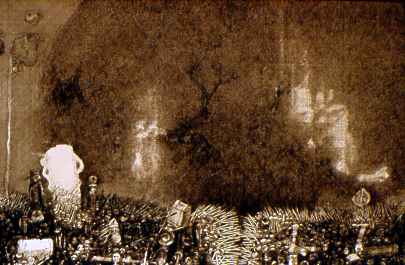 East Side Story. Sarajevo, 1996
Black ink, 36.5 x 53.5 cm
Landscape With Highway #401, 1996
Linocut, 46.5 x 62.5 cm
Babel I, 1996
Black ink, 36.5 x 53.5 cm
Josephina and I in Toronto, 1996
Linocut, 59 x 70 cm
Les fleurs du mÔl II, 1996
Black ink, 53.5 x 72.5 cm
The Ark II, 1996
Linocut, 49 x 87 cm
My World II, 1996
Linocut, 46 x 49 cm
My World I, 1995
Linocut, 48.5 x 71.5 cm
First Canadian Night, 1995
Black ink, 36.5 x 53.5 cm
The artist's first impressions and thoughts upon her arrival in Canada
are reflected in this, her 'dearest' work.
Short Stories, 1993
Mixed technique, 50 x 70 cm
This series of seven works was inspired by the fall of the Berlin wall.
Signs, 1992
Ink and watercolours, 50 x 70 cm
The lifting of the 'iron curtain' (1989) in eastern Europe was a sign of revival. This work is dedicated to the profound challenges that these countries will face in the upcoming years.